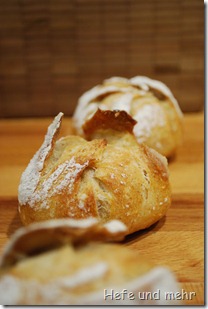 Bread Baking Day # 27 was a real challenge for me. Gretchen Noelle from canela and comino choosed Pan Latino – Latin Bread as theme. The spanish word pan reminded me that I only remember spanish food terms and no other word from my Spanish lessons. I did not change a lot since my school days, didn't I? Always fascinated by food. 😀
But poor language knowledge is no excuse since Goggle Translator. Goggle Translator worked very good for me when translating the recipe for Ceriolas.  But before checking the world wide web I take a look in my cookbooks. But I did only find one latin bread recipe, conchas. This are sweet rolls with a cookie dough topping. But I was whishing for something not so sweet. And then I remembered that Petra from  Chili und Ciabatta post some latin recipes. So I looked through the recipes I bookmarked from her page and found something I want to try for ages: Sacaduros.
They are cute little rolls, with a butter core, which unfold a little bit during baking. They are perfect to accompany a salad or a soup.
Sacaduros
Poolish:
155g flour Type 550
35g  wheat, fresh ground
1 g fresh yeast
9 g Honey
320 g water
Dough:
whole poolish
300g flour Type 550
2g fresh yeast
10 g Salt
Filling:
50g butter in small pieces
Salt
Mix all ingredients for the poolish and proof it for 1 hour at room temperature. Then put the dough into the fridge for 12 hours.
Add all ingredients for the dough and  then knead  for 10 min at middle speed. Ferment for 2 hours.
Divide the Butter into cuves with 1 cm edge lenth.
Divide into pieces of 45 g. Take a piece of dough, place a butter cube in the middle. Take two opposite sides of the dough, stretch it a little bit and fold it over the butter, so that they meet in the middle. Turn the roll for 90°and repeat the procedure. Turn the roll again for 90° and stretch and fold again. If the dough is to sticky use some flour.
Now place the roll upside down on a very well floured board.
Proof the rolls until you form enough for one tray (not longer then 30 min). Bake them while forming the rolls for the second tray.
Bake the rolls at 250°C for 15 min.
I submit this post to Susans Yeastspotting, too. Yeastspotting is a weekly showcase of yeast baked goods.