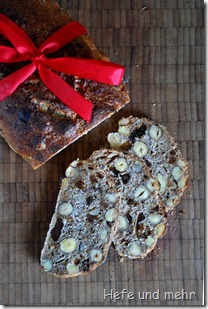 I planned to bake "Kletzenbrot" this year. Kletzenbrot is named after the Kletzen which are added to the dough and this Kletzen are dried pears. But then I remembered that I have to big glasses filled with dried apples in the pantry because this autumn  I dried a lot of the apples we harvest. (I mentioned before that we harvest lots and lots of apples this year, didn't I?)
So I decided to use some of this dried apples in the bread instead of dried pears. And so I call it Fruit bread and not Kletzenbrot.  The dough I used is a simple bread dough with sourdough. The sweet of this bread comes from the added fruits and nuts. It tastes most delicious cut in very thin slices and spread with some butter. It is my favorite bread for breakfast at the moment and it keeps fresh for a long time because of the fruits and the sourdough.
This fruit bread is my post for the last Bread Baking Day of 2010, which theme is "Bread with dried Fruits".
Fruit bread
Sourdough
100g flour, Type 550
10g Sourdough Starter
100g Water
Dough
whole Sourdough
400g wheat, fresh milled
300g Water
2g fresh yeast
10g Salt
Dried Fruit
150g almonds
150g hazelnuts
100g raisins
100g dried Apricots
100g dried apples
Mix water, flour and starter for the sourdough and ferment it overnight (12 to 16 hours).
The next mornig: Mix all incredients for the dough and knead it for about 8 min. At the dried fruits and nuts to the dough and incooperate them by hand.
Ferment the dough for 1 hours.
Shape the dough into two oval loaves and proof for 1 hour.
Slash the loaves directly before baking.
Bake for 30min at 250°C with steam on a hot stone.
I send this bread to Susans Yeastspotting, a weekly showcase of yeast baked goods.