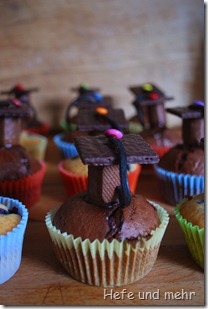 Its more then a year since we had the last PhD-Party. Thats more than enough time to collect new ideas for the Doctor cake. And its nearly one year ago that I saw this beautiful muffins with graduation cap decoration at Tastespotting.
And at this time I made a note for myself that for the next disputation I would bake this kind of muffins. And this week one of our colleagues got her PhD and it was time for party and and for graduation cap muffins.
I made some changes and decided to use small waffle cookies to create the caps. And preparing the caps was really simple. I dipped the round cookie in some molten chocolate, place it on the flat and square one, let dry a little bit, then turn them around and place some liquorice and a small chocolate lentils on the top. I prepare all of the caps at the weekend and stored them in the cookie jar (I also threaten the boyfriend that something really mean would happen to him if he eat one of them 😉 ). The evening before the party I bake the muffins using this recipe. After they cooled down I top them with some molten chocolate and place the caps on then. For transporting them to the lab I stored them in some tin jars and luckily all of them survived travelling with train fine.
Graduation cap Decoration
yields 30
30 chocolate covered waffle rolls (2 packages of Choco friends from Bahlsen)
30 square waffle cookies (1 package Afrika from Bahlsen)
30 chocolate lentils (Smarties Mini)
2 liquorice snails
50g chocolate
Melt the cocolate. Turn the square waffle cookie upside down then dip the waffle roll into the chocolate and place it then in the middle of the square cookie. Let dry. In the meantime unroll the liquorice snail and cut in pieces of 3 cm each. Turn the cap around, dip one side of the liquorice in the chocolate then place it in the middle of the cap. Top with the chocolate lentil and let dry-