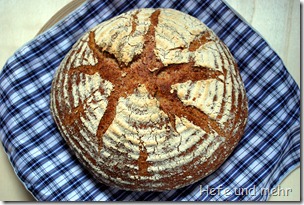 At the moment I am completely in love with bread with mixed preferments. And because I long for a simple whole wheat bread I decided to bake a bread with a whole wheat sourdough and with Pâte fermentée which I prepared with white flour.
I placed the dough seam side down in the breadform so when I placed the loaf in the oven the seam side was up, so the bread crust cracked open in an irregular pattern. That looks pretty and I don't have to slash.
I send this recipe to Susans weekly Yeastspotting.
Rustic Whole Wheat Bread
Sourdough
175g Wheat, freshly milled
175g water
15g sourdough Starter
Pâte fermentée
210 g flour Type 550
145 g Water
1g fresh yeast
4g Salt
Dough:
350g sourdough
360g Pâte fermentée
500g Wheat, freshly milled
300g flour Type 550
500g water
5g fresh yeast
20g Salt
Mix all ingredients for the Pâte fermentée and proof it for 1 hour at room temperature. Then put the dough into the fridge for 12 hours.
Mix the ingredients for the sourdough and ferment for 12 hours at room temperature.
Now mix the different flours with the water, yeast, pate fermentée and the sourdough and rest it for 20 min (Autolysis).
Now add the salt and knead 5 min ad the slowest speed and 5 min ad higher speed until medium gluten development then place the dough in a good oiled container and ferment for 2 hours. Give the dough once during this time.
Folding: Flour your countertop and  put the dough on it. Flat the dough carefully to a square. Now fold the right and the left side to the middle, then from button and top, too. You can find a nice tutorial here.
After fermenting divide the dough into two equal parts. Preshape into a bowl. Rest for 45 min. Then form in a bread and place in brotforms seam side down. Proof for 90 min.
In the meantime heat baking stone in the oven to 250°C.
Bake the loaves on the hot stone for about 45 min with steam, until the crust is golden brown.