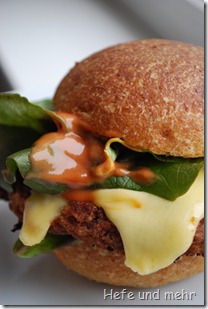 I saw barbecued bean burgers often in the last days. First I read a recipe in the organic magazine Schrot und Korn and the picture looked so delicious. Next Erin of Naturally Ella posted a recipe for Blackbean Burger. And now I had problem I could not decided which recipe I like most. Both had small details I like more in one recipe then in the other and the other way round. So I did what I always do in situations like this: I use both recipe as inspiration and create my own recipe.
The weather was bad last Saturday so we did no barbeque but bake the patties in a pan. That worked fine, too.  I freeze the leftover patties so we can barbecue spontaneously when the weather is fine again.
As roll we used homemade whole wheat hamburger rolls, topped them with same lettuce and a mixture of mustard and ketchup. What a delicious lunch.
Bean burger
yields 10 patties
250g dried Kidney beans (or 2 cans of kidney beans)
2 egg white
about 200g dried bread crumbs
1 small onion
1 carrot
1 garlic clove
some hot pepper oil (homemade)
Salt
Pfepper
Oregano
cumin
Soak the beans over night in a lot of water. At the next morning boil the beans until soft (about 1 hour). Drain the beans.Peel the onion and the carrot and dice them. Put the beans and the vegetable in the food processor and mix until only very small pieces are visible anymore. Maybe you have to add some water here then you need to adjust the amount of bread crumbs.
Mix the bean puree with egg white and add as much bread crumbs as you need to get the mass to a consistence that allows you to form patties.
Make 10 patties and bake in a pan with some oil for about 4 min each side.
You can freeze leftover patties before baking. I placed them on a tablet for freezing and after they were frozen I transferred them to a bag.