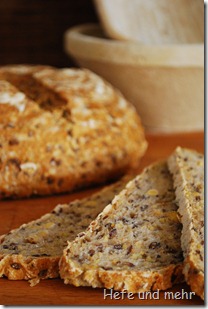 Reading Yeastspotting always gives me inspirations and recipes which I have to try instantly. When I saw Natashyas Korni I was lost at the same Moment. It looks delicious and I fell in love with the name. And when I read the recipe I meet my favourites flaxseeds and millet. There was roasted soy beans in the list, too. And that was perfect because I bough some soy beans some time ago to make some breads with it.
But before I rushed in the kitchen to start baking, I had to make some adjustments in the recipe (like I always do ;-))
I replaced the rye and all-pourpose flour in the poolish with spelt flour type 1050 and I reduced the amount of yeast to 1g fresh yeast. And that was more than enough to encourage the poolish to explor my summer warm kitchen during the night (Note to myself: Use bigger bowls when the kitchen has 24°C or more).
Another change in the recipe is that I increase the amount of flaxseeds and soak both millet and flaxseeds in hot water before using. And I milled some of roasted soy beans to flour because the lecithin in the soy beans improves the dough structure.
The dough was very soft but with some flour handling and forming the loafs was easy to do. During proofing the loafs rose highly and they had a good ovenspring, too.
I am very happy with the resulting bread. It has a nice, airy crumb with a crispy crust. The millet, soy beans and flax seeds gave some crunch to slices and it tastes great. This is a bread I will bake again for sure!
Korni
Poolish
130g wheat, freshly milled
280g spelt flour Type 1050
530g water
10g diastatic malt
1g fresh yeast
Soaker 1
Soaker 2
100g flax seeds
100g millet
Dough
whole Poolish
440g flour Type 550
40g water
10g fresh yeast
10g roasted and millet soy bean (optional)
17g salt
Soaker 1
Soaker 2
Mix water, flour and yeast for the poolish and ferment it overnight (about 12 hours).
Soaker 1: Soak soy beans in boiling water for 10 min. Drain and process in a food processor to rough chunks. Heat a pan to middle heat and roast the soybeans until they are dry and start getting brownish.
Soaker 2: Cover millet and flaxseeds with boiling water and soak them for about 20 min. Drain well before use.
The next mornig: Mix poolish,flour, water, yeast, milled soy and salt and knead it for about 3 min at low speed, then 6 min on high speed until medium gluten development. Now reduce the speed to low speed again and add both soakers. Knead until well combined.
Ferment the dough for 60 min.
Devide the dough into two pices and form them to light balls. Rest them for 20 min.
Form to two loafs and place seam side up in well floured breadforms. Proof for 90 min.
In the meantime heat the baking stone at 250°C.
Bake at 250°C for 40 min with steam.