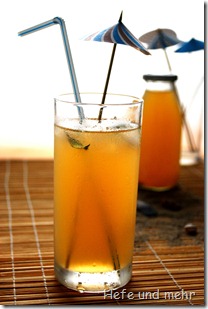 The heat we had the last days (more then 37°C) is gone overnight and it is about 8°C colder then yesterday but it is still very humid so that every movement seems to be to much. I am not made for Temperatures about 30°C. My brain seems to work with half of its normal speed then.
So I need some refreshments. And a really delicious refreshment is a Apple Mint Ice tea. The Inspiration for this kind of Ice tea we get when where shopping in our supermarket. The organic brand Alnatura has a new softdrink called "Naturell". It contains of mineralwater, jucie and herbal extracts. We tested the different mixtures and liked "Apple and Mint" most. But I think that one Euro is to much for 500 ml. So I bough one litre organic apple juice  instead. At home I made some mint tea with fresh mint from my parents garden and mixed the tea with apple juice. That is cheaper and tastes better because I can adjust the mint taste to our preference.
A cool and refreshing drink for long and hot summer sundays.
Apple Mint Ice tea
for 1 litre
0.5 l boiling Water
2 branches of mint
1 branch of lemon balm
0.5 l unfiltered apple juice
Brew tea with mint and lemon balm. Remove the herbs after 15 min, mix the tea with the apple juice and cool the Ice tea in the fridge.