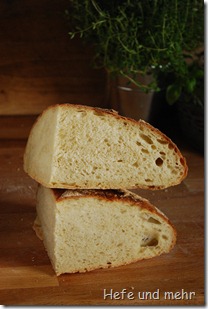 Apa269 of Family & Food & other Things choose for Bread Baking Day # 32  the theme "Italian Breads" . Thats a perfect choice for me because it is really hot at the moment and at hot summer days I prefere light breads like Ciabatta oder Pane Francese instead of my normal whole wheat breads.
At our last trip to Metro, a wholesale, I bought a kilogram of durum flour. So I decided to try Pane Pugliese.
But despite the high hydration and the three stretch and fold cycles the crumb was rather dense and not so wide open as I wished it to be. But the crumb was nicely soft and it tasted delicious so I was satisfied. The durum flour gaves a nice yellowish colour to the crumb.
We used a part of the bread for Bruscetta and it was perfect for this.
I submit this bread to Susans Yeastspotting, too.