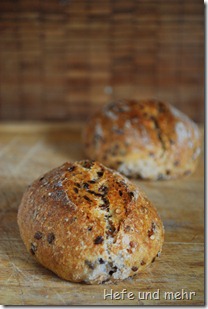 The last weeks were very exhausting. My work in the lab is very time consuming at the moment and it seems that it stays like this until middle of September. That's why I posted not very frequently in the last time and I am afraid that I will not post regulary until the most important experiments are done.
The Spelt and Seeds roll I baked on saturday last week. The Idea for this recipe came to me when I thought about what to do with left over boiled spelt grains. I decided to use them in a dough for rolls. I added a soaker with rolled oats and flax seeds. This made the rolls soft and hearty.
The combination of whole wheat flour, white spelt flour, spelt grains and flaxseeds is perfect for a delicious sandwich for lunch break.
For this week I am to late for Yeastspotting, so I send it for next weeks edition of Susans weekly showcase of yeastbaked goods.