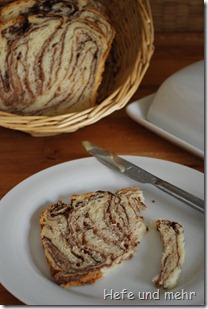 At Happy Home Baker, the source for the in german blogs so famous hokkaido milk bread, I found this beautiful bread with a zebra pattern.
I baked it already two weeks ago but having a busy time in lab (again) I had no time to post it. I hope I post it now in time for yeastspotting.
The bread has the same wonderful soft crumb as his famous cousin hokkaido milkbread. To achive a cotton soft structure I used water roux. Water roux is a mixture that contains of 1 part flour and 5 parts water and which is heated to 65°C. It cause the starch to gelatinization, so it binds more water, which make the bread softer and fluffier and enhanced the shelf life.
The bread is very delicious with a bittersweet chocolate taste. It tastes delicious on his own but with a slightly sour marmalade like red currant it tastes even better.