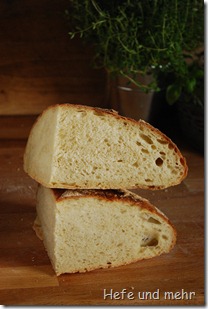 Apa269 of Family & Food & other Things choose for Bread Baking Day # 32  the theme "Italian Breads" . Thats a perfect choice for me because it is really hot at the moment and at hot summer days I prefere light breads like Ciabatta oder Pane Francese instead of my normal whole wheat breads.
At our last trip to Metro, a wholesale, I bought a kilogram of durum flour. So I decided to try Pane Pugliese.
But despite the high hydration and the three stretch and fold cycles the crumb was rather dense and not so wide open as I wished it to be. But the crumb was nicely soft and it tasted delicious so I was satisfied. The durum flour gaves a nice yellowish colour to the crumb.
We used a part of the bread for Bruscetta and it was perfect for this.
I submit this bread to Susans Yeastspotting, too.
Pane Pugliese
Biga
125g durum flour
85g flour Type 550
125g water
0,5g fresh yeast (a tiny little bit)
0,4g Salt
Teig
270g flourType 550
270g durum flour
3 g fresh yeast
435g water
15g Salt
Mix all ingredients for the biga and ferment for 10 to 12 hours at 25°C.
The next morning:  Mix all ingredients for the dough at low speed for  2 min. Let the dough rest for 30 min (autolysis).Then knead the dough for about 2 min at low speed, then 4 min on high speed. Turn the dough on the counter and fold it. Now place the dough in a good oiled container.
Ferment for 2 hours. Fold the dough three times during this time (after 30 min, 60 min and 90 min).
Form to a round loaf and place in a well floured brotform.
Proof for 1,5 hour.
In the meantime heat the baking stone at 250°C.
Bake the breads for 40 min with steam.