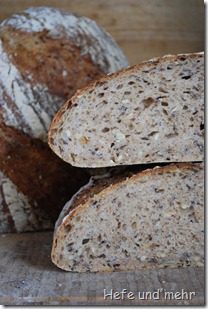 I did not planed to post this recipe (I posted some similar recipes already) but the boyfriend praised this bread so much that I decided to write it down in case he asked me to bake it again.
For this bread I had to smuggle sunflower seeds in the house and to my surprise he did not find it in the pantry. But as soon as I opened the package he appeared in the kitchen and started to nibble the seeds. But at this time I had the amount I needed already weighed.
I used two preferments for this bread: Sourdough and Pâte fermentée which gave a lot of flavour to the bread while the soaked rolled oats and flax seeds made it nicely moist.