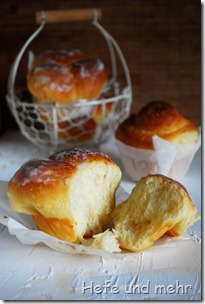 Brioche, that is a featherlike Breakfast pastry. The recipes vary, from rich to very rich with more than 50% Butter and Egg in relation to the flour. That tastes good, but it's really rich. So I hesitated to bake them, but then I thought about a leaner variation. My Brioche contains 2 Eggs for 500g flour and about 20% Fat from Butter and cream. I heated the cream with some flour for a Water Roux (or more correctly Cream Roux) so I could add a higher amount of liquid to the dough. The amount of yeast is very low so I could leave the dough to proof overnight on the counter.
I do not own Briocheforms, so I bake them in a Muffin pan. I do some as typical Brioche a tête and some as bubble top like in this recipe from Dorrie Greenspan I found on Bon Appétit. To prevent the brioche from sticking to the pan I placed each Brioche on a baking paper squares and transferred them with the paper into the pans.
Due to long kneading and water roux the crumb is soft and regular and can be tore into long fibres. The taste is complex, buttery and creamy – perfect for a sunday morning breakfast.