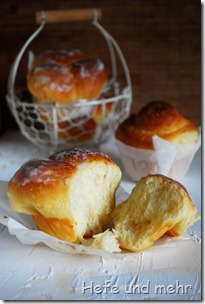 Brioche, that is a featherlike Breakfast pastry. The recipes vary, from rich to very rich with more than 50% Butter and Egg in relation to the flour. That tastes good, but it's really rich. So I hesitated to bake them, but then I thought about a leaner variation. My Brioche contains 2 Eggs for 500g flour and about 20% Fat from Butter and cream. I heated the cream with some flour for a Water Roux (or more correctly Cream Roux) so I could add a higher amount of liquid to the dough. The amount of yeast is very low so I could leave the dough to proof overnight on the counter.
I do not own Briocheforms, so I bake them in a Muffin pan. I do some as typical Brioche a tête and some as bubble top like in this recipe from Dorrie Greenspan I found on Bon Appétit. To prevent the brioche from sticking to the pan I placed each Brioche on a baking paper squares and transferred them with the paper into the pans.
Due to long kneading and water roux the crumb is soft and regular and can be tore into long fibres. The taste is complex, buttery and creamy – perfect for a sunday morning breakfast.
Cream Brioche
200g flour Type 550
140g Water
1g fresh yeast
4g Salt
150g cream
30g flour Type 550
Dough
Pâte fermentée
Water Roux
270g flour Type 550
110g Egg
70g Butter
60g sugar
5g Salt
1g fresh yeast
Sugar glaze (optional)
50g sugar
35g Water
1/2 vanilla bean
Mix all ingredients for the Pâte fermentée and knead for 3 min, then ferment it for 1 hour at room temperature. Then put the dough into the fridge for  at least 12 hours.
For the water roux whisk water and flour until lump free, then heat it up to 65°C (needs about 3 min) while whisking. Fill the water roux in a bowl, cover its surface with cling foil and let it cool down to room temperature.
Mix flour, eggs , water roux, Pâte fermentée, salt and yeast and knead 5 min at slowest speed, then around 11 min on fast speed until complete gluten development. Now add sugar and butter and knead for about 2 min until butter and sugar are complete incooperated.
Ferment for 3 hours, then place in the fridge for at least 1 hour (longer is fine, too).
Divide the dough into 12 pieces of about 80g each
For forming in the Brioche a tete make a ball, then press the rim of the hand and then move the hand back and forward to divide the ball into a big ball (2/3) and a small ball(1/3) only connected with a small dough thread. Now make a hole in the big ball and drag the small one through the hole (wathc this video). Place the brioche on a piece of baking paper (12cm x 12cm) and transfer it into a muffin pan.
For the bubble top brioche divide each dough piece into 3 smaller pieces of equal size (ca. 27g), form them into little balls and lay them a piece of baking paper (12cm x 12cm) and transfer it into a muffin pan.
Proof overnight at roomtemperature for 8 – 10 hours.
Bake at 175°C for about 25 min with steam.
For the Glaze bring water, pulp of the vanilla bean and sugar to boil and boil until the sugar syrup form threads when it drops from the spoon. Brush the still hot stars thinly with the syrup.
I send this entry to yeastspotting, Susans weekly showcase of yeast baked goods