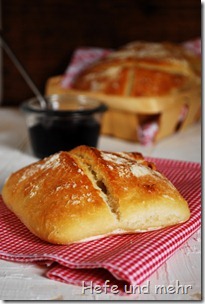 Christine mentioned in a comment to the Overnight-Krustis, that a recipe for kneading with hand would be nice. That is true, of course and so I tested for the next rolls a variation without kneading by a machine. Really kneading was not necessary either, because the gluten network was developed by folding the dough every 30 minutes for 2 hours. After folding 3 times the dough had a nice silky sureface, telling me that the gluten network was now fine.
For Forming the rolls I tried a new Idea. After folding the dough into a square I used my dough scrapper to cut it into smaller squares. After I placed the rolls on baking tray, I used the dough scrapper again, pressing it lengthwise for about 2/3 into the roll. Then I left the rolls to proof overnight. The next morning I just had to place the tray in the hot oven without fussing over slashing rolls. They had a nice ovenspring and cracked nicely along the imprint I made with the dough scrapper.
Rolls"Rustiko"
yields 9 rolls
150g Water
30g flour Type 550
Teig
Water Roux
470g flour Type 550
250g Water
25g Sourdough-Starter (optional)
10g Salt
1g fresh yeast
65g Butter
For the water roux whisk water and flour until lump free, then heat it up to 65°C (needs about 3 min) while whisking. Fill the water roux in a bowl, cover its surface with cling foil and let it cool down to room temperature.
Add water roux to the other ingredients in a big bowl. Mix everything together until homogenous. Let it rest for 30 min. Now fold the dough from the sides of the bowl into the middle. Let the dough rest for another 30 min.
Repeat the folding for another 2 times, then let the dough rise for another 30 min at room temperature.
Now roll the dough on a well floured square with a length of 40 cm. Fold from left and right to the middle, then from top and bottom so that the resulting square has a length of 20 cm.
Use a dough scrapper to cut 9 square rolls. Place the rolls on baking tray,then press a dough scrapper lengthwise for about 2/3 into the rolls. Proof for overnight (for 8 – 10 hours).
Bake at 250°C for 18 min with steam.
I send this entry to yeastspotting, Susans weekly showcase of yeast baked goods