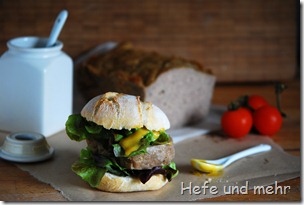 I eat vegetarian and my boyfriend like vegetarian food, too, so we seldom buy meat for him. But sometimes he like to find some meat on his plate. A favourite of him is Fleischkäse (also called Leberkäse) but he seldom buy it.
But when we saw the recipe "Fleischkäse für Jedermann"  at chefkoch.de we decided to try it for dinner (I got some homemade smoked tofu burgers). We tweaked the spices in the recipe a little bit, but over all we sticked to the recipe.
It is an easy recipe, the ground meat has to be kneaded with the kitchen machine until it gets smeary, then its placed in a baking pan and baked for an hour.
The boyfriend like the Fleischkäse very much and we have now a lot of slices in the freezer, so he can eat fried Fleischkäse when ever he liked