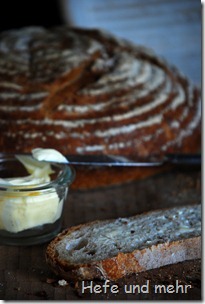 When you bake your own bread, you normally have to deal with leftover bread, too. When the bread become stale, I normally place it on top of the kitchen radiator and let them dry out completely. When they are dry, I put them in a food container and keep them for further use, like bribing our guinea pig (not a healthy treat, I know) or crushing them to bread crumbs. The bread crumbs I use regulary for cooking and baking. I like to put them into  the filling of  sweet pastries. Or I add them into a bread dough, replacing a part of the flour with the bread crumbs.
Lutz like to put old bread into preferments. I like this idea and vary his kind of preferment, so that its made out of bread crumbs completely. Together with some sourdough and a slow and long proof in the fridge, it adds a lot of flavour to the bread. Very delicious!
Wheat Bread with "old Bread"
Sourdough
220g flour Type 550
155g Water
25g Sourdough-Starter
Preferment made with old Bread
200g dried (Whole Wheat-)Bread, crushed into breadcrumbs
400g Water
1g fresh yeast
Dough
Sourdough
Preferment
1100g flour Type 550
650g Water
22 g Salt
5g fresh yeast
In the morning mix water, flour and starter for the sourdough and ferment for about 10 hours at 25°C.
For the bread ferment crush the bread to fine crumbs, mix crumbs with yeast and water. Ferment for about 10 hours at 25°C.
Mix all ingredients for the dough  and knead it for about 5 min at low speed, then 8 min on high speed until medium gluten development.
Ferment for 1,5 hours. Fold the dough one time during this time.
Form three breads and place them in brotforms.
Proof overnight in the fridge.
The next morning heat the baking stone at 250°C.
Bake the breads for 45 min with steam.
I sent this entry to Yeastspotting, Susans weekly showcase of yeast baked good.