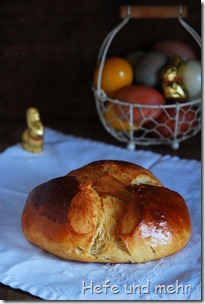 Since some years I always thinking during Eastern, that it  would be nice to bake an Easter Pinze. Until now, I never did it, but this year it seems to be the perfect time. After a quick search in the internet showed me that there are two different recipe variation. One is made with anise wine, the other one with grated lemon or orange peel. I would never allow anise seeds into my kitchen, not to mention to bake with them… So it was an easy decison.
As basis for my recipe I started with Petras Recipe, but added a sourdough and a milk roux and changed the rest of the recipe accordingly.
When I take the bread out of the oven, it smells already very good, after fresh lemons. And its taste is great, too. Lemon with the tiny bit of tanginess from the sourdough make the bread taste like the fresh air in spring.