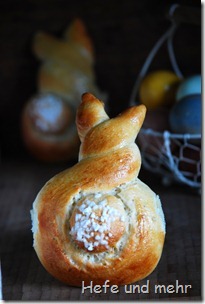 Eastern without homemade Easter-bunnies-buns? That is impossible.
I bake Easter bunnies every year, varying the dough and the shape. This year their shape are a little bit more abstract then in the last years. The boyfriend needed a little hint to see the bunny in this shape. But I fell in love with the shape when I saw it here.
I made the dough as a overnight variation similar to the saffron stars on Christmas. I like the fact that you can sleep longer on holidays and be able to serve warm bread for breakfast.
The long and slow proofing is good for the taste, too, making it more complex. They taste very good, with hints of butter and vanilla, a very delicious treat for a Easter breakfast or brunch!