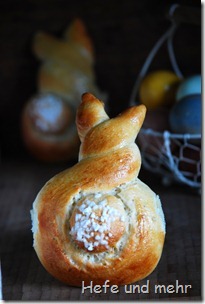 Eastern without homemade Easter-bunnies-buns? That is impossible.
I bake Easter bunnies every year, varying the dough and the shape. This year their shape are a little bit more abstract then in the last years. The boyfriend needed a little hint to see the bunny in this shape. But I fell in love with the shape when I saw it here.
I made the dough as a overnight variation similar to the saffron stars on Christmas. I like the fact that you can sleep longer on holidays and be able to serve warm bread for breakfast.
The long and slow proofing is good for the taste, too, making it more complex. They taste very good, with hints of butter and vanilla, a very delicious treat for a Easter breakfast or brunch!
Easter bunnies– Overnight-Variation
yields 9 Easter bunnies
125g Water
125g Milk
1 Egg (55g)
500g flourType 550
3g Salt
1g fresh yeast
100g Butter
50g sugar
Vanilla bean
Decoration
pearl sugar
Egg, blended for glazing
Dissolve the yeast in milk. Add water, milk, egg, flour, seeds of the vanilla bean and salt into a bowl and knead for 5 min at slow speed, then another 10 min at high speed . Because the sugar inhibits the gluten development, sugar is added just now. Add always a tablespoon at once and knead in between always for 1 min. At last add the butter all at once and knead until the butter is completely incooperated.
Ferment for two hours.
Divide the dough into 9 90g pieces and 9 15g pieces. Shape the 15g pieces into balls. Roll the 90g pieces into strands of 35 cm, with a thick middle and thinner ends.
Lay a strand in U-shape. Now place the left end over the right end, forming a loop. Lay the left end of the loop over the right end. Flat the ends (ears of the bunny) a little bit.
Now dip the balls with one side in pearl sugar and lay them in the loop, pearl sugar side up. (A "How to form" with pictures can be found here)
Place the bunnies on a paper lined tray, cover it with plastic foil (I used a clean plastic bag) and let them proof over night (about 8 hours).
The next morning glaze the bunnies with egg and bake at 200°C for about 15 min with steam.
I sent this entry to Yeastspotting, Susans weekly showcase of yeast baked good.