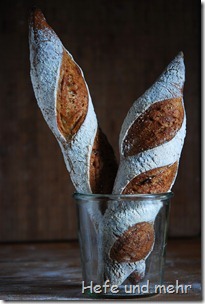 After the delicious Wheatbread with old bread I wanted to try another recipe with old bread preferment as well. Lutz' Altbrotstangen make whishing for some baguettes of my own and so I started to rethink a recipe I created about 2 years ago.
The Baguette with 3/4 Sponge and cold Autolysis had a great taste but I did not like how they look then. So I decided to change some parameters of the recipe, adding an old bread preferment and some gluten.  The dough I got with the changed recipe was soft but not sticky and easy to handle.
When I shashed the baguettes I was already hopeful that this time the baguettes would look as perfect as the baguette I was dreaming of. And when I drew them out of the oven I was stunned because they were so beautiful. The most beautiful baguettes I ever bake.
And their taste is great, too. The two preferments add a complex flavour to the bread and the old bread adds nutty nuances to the taste. A delicious bread, which I will bake often for sure.
Baguette with "old bread", 3/4 Sponge and cold Autolysis
Cold Autolysis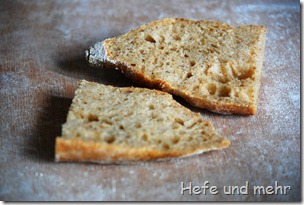 475g flour Type 550
25g Gluten
300g water (ice cold)
Preferment with old Bread
200g dried (Whole Wheat-)Bread, crushed into breadcrumbs
400g Water
1g fresh yeast
Sponge
Dough from the cold autolyze
20g water
2g fresh yeast
Dough
preferment with old bread
Sponge
300g flour Type 550
20g Salt
25g Water
Cold Autolysis: Mix flour and cold water at the morning and place in the fridge for 12 hours .
For the bread ferment crush the bread to fine crumbs, mix crumbs with yeast and water. Ferment for about 24 hours in the fridge.
Sponge: Dissolve Yeast in Water and add to the dough from the cold autolysis. Knead until homogenous. Ferment for 12 hours (overnight) at room temperature (20°C).
At the next morning add preferment, water, flour and salt to the sponge and knead by hand until homogenous. Let rise for 3 hours, folding the dough every 30 min.
Divide the dough into pieces of 200g, preshape to a loaf (15 cm long) and rest for 20 min. Roll into a baguette (35 cm length) and proof on a well floured couch for about 1 hour.
In the meantime heat the bread baking stone to 250°C. Slash three times prior to baking.
Bake at 250°C for 25-30min with steam.
I sent this entry to Yeastspotting, Susans weekly showcase of yeast baked good.