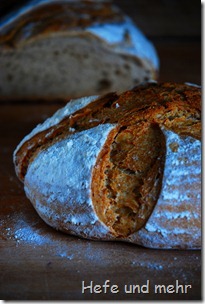 Lutz baked a swabian Potato Bread last year, a little bit later there was a modified version on  Grain de Sel, which Petra baked, too. I realized the recipe then and decided to bake my own version of this bread.
I increase the sourdough and preferment amount as well as the amount of potatoes but decrease the yeast amount. After I had such a good experience with old bread (aka bread crumbs) in preferment I decided to add the bread crumbs to the preferment.  Instead of oil or lard I preferred Butter.
The bread is very delicious with a soft cumb and a thick, crispy crust. It is very aromatic because of the two preferments, and the higher amount of bread crumbs adds a nice nut-like flavour to the dough.
This is a new favourite!
Swabian Potato Bread
Sourdough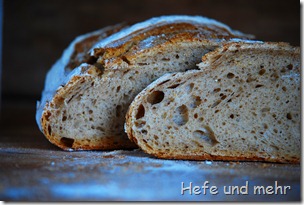 150g flour Type 550
105g Water
15g Sourdough
Old Bread Preferment
150g flour Type 550
100g dry whole grain bread(ground into crumbs)
300g Water
1g fresh yeast
Dough
200g potato, cooked and mashed
100g whole rye flour
300g flour Type 550
50g Water (+30g Water if needed)
4g fresh yeast
20g Salt
50g Butter
In the evening mix water, flour and starter for the sourdough and ferment for about 10 –12 hours at 25°C.
For the preferment with old bread ground the bread to fine crumbs, mix crumbs with flour, yeast and water. Ferment for about 10 hours at 25°C.
Mix all ingredients for the dough  and knead it for about 5 min at low speed, then 8 min on high speed until medium gluten development. Add as much of the additonal 30g Water as you need to come to a soft and a little bit sticky consistence.
Ferment for 1,5 hours. Fold the dough two times during this time.
Half the dough and form each half to a round loaf. Place each loaf in a proofing basket, with seam side up.
Proof for 60 min.
In the meantime heat the baking stone at 250°C.
Prior to baking, slash the loafs and bake the breads for 10 min with steam at 250°C then reduce temperature to 190°C and bake for another 60min.
I sent this entry to Yeastspotting, Susans weekly showcase of yeast baked good.