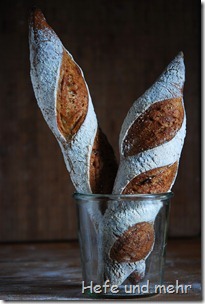 After the delicious Wheatbread with old bread I wanted to try another recipe with old bread preferment as well. Lutz' Altbrotstangen make whishing for some baguettes of my own and so I started to rethink a recipe I created about 2 years ago.
The Baguette with 3/4 Sponge and cold Autolysis had a great taste but I did not like how they look then. So I decided to change some parameters of the recipe, adding an old bread preferment and some gluten.  The dough I got with the changed recipe was soft but not sticky and easy to handle.
When I shashed the baguettes I was already hopeful that this time the baguettes would look as perfect as the baguette I was dreaming of. And when I drew them out of the oven I was stunned because they were so beautiful. The most beautiful baguettes I ever bake.
And their taste is great, too. The two preferments add a complex flavour to the bread and the old bread adds nutty nuances to the taste. A delicious bread, which I will bake often for sure.