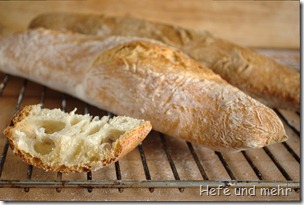 It's again time for a bread recipe for the blog. The last weeks I played with two different methods: Cold Autolyze like Phillipe Gosselin used and the 3/4 Sponge I found in a recipe of Dan Lepard (scroll down for the recipe).
The recipe for the bread with 3/4 Sponge use only a minimal amount of yeast which is completely  added to the sponge, something that always fascinate me.
After I baked two breads with this methods I decided to combine both in a baguette recipe. Do achieve a wide open crump I kneaded as less as possible, using only my hands, and achieve gluten development with stretch and fold cycles.
I am not happy with the look of the baguette, I did much better looking ones before, but the crump is as great as I hoped for. Wide open with lots of holes, just like a good baguette crump should look. And the taste is delicious as well, so I am mostly satisfied.
I sent this bread to Yeastspotting, Susans weekly showcase of yeast baked bread.
Baguette with 3/4 Sponge and cold Autolyze
Cold Autolyze:
500g flour Type 550
300g water (ice cold)
Sponge:
Dough from the cold autolyze
20g water
2g fresh yeast
Dough:
whole Sponge
150g flour Type 550
130g Water
12g Salt
Cold Autolyze: Mix flour and cold water at the morning and place in the fridge for 12 hours .
Sponge: Dissolve Yeast in Water and add to the dough from the cold autolyze. Knead until homogenous. Ferment for 12 hours (overnight) at Roomtemperature (20°C).
At the next mornig add water, flour and salt to the sponge and knead by hand untill homogenous. Let rise for 3 hours, folding the dough every 30 min.
Divide the dough into three parts and rest for 20 min. Roll into a baguette and proof on a well floured couch for about 1 hour.
In the meantime heat the bread baking stone to 250°C. Slash prior to baking.
Bake at 250°C for 35min with steam.