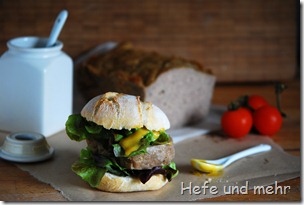 I eat vegetarian and my boyfriend like vegetarian food, too, so we seldom buy meat for him. But sometimes he like to find some meat on his plate. A favourite of him is Fleischkäse (also called Leberkäse) but he seldom buy it.
But when we saw the recipe "Fleischkäse für Jedermann"  at chefkoch.de we decided to try it for dinner (I got some homemade smoked tofu burgers). We tweaked the spices in the recipe a little bit, but over all we sticked to the recipe.
It is an easy recipe, the ground meat has to be kneaded with the kitchen machine until it gets smeary, then its placed in a baking pan and baked for an hour.
The boyfriend like the Fleischkäse very much and we have now a lot of slices in the freezer, so he can eat fried Fleischkäse when ever he liked
Fleischkäse
600g ground meat (pork)
150g ground meat (cattle)
150g sparkling water
20 g (Sea-)Salt
3 g Pfepper
2 g Macis
4g yellow mustard seed
0,5 g cardamom
2g sweet Paprika powder
3g Majoram
30 g starch
20 g Onion
3 g Baking powder(has to contain Phosphate!)
Ground the spices with the salt finely. Add all ingredients to the mixing bowl of a kitchen machine white kneading hooks and knead for 5min until smeary. Fill in a Paper lined baking pan and distribued evenly with wet hands to get a even sureface. Make diamond shaped  imprints on the sureface using a dough scrapper. Bake 60 min at 100°C then increase temperature to 180°C and bake another 15 min until golden.