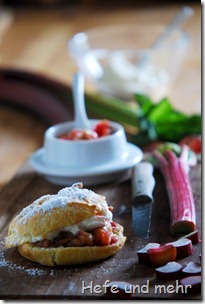 Since days I am dreaming of some kind of rhubarb cake. So when I spotted some beautiful red rhubarb stalks in the organic food shop I decided immediately that I would take some home with me (especially when the organic grown rhubarb was better looking and cheaper then the conventional grown I saw earlier this week in the supermarket).
On my way home I started to think about what to bake with the rhubarb. I'm still learning for my disputation, so time for baking is short. So I decided to do make cream puffs with oven roasted, vanilla flavoured rhubarb. Something that is easy but delicious.
When I tried the rhubarb when I took it out of the oven, I could hardly stop eating everything. It tasted so good. (Note to myself: Next time double the amount of the oven roasted rhubarb, then I would have some to stir in yoghurt)
The cream puffs are even more delicious then the plain rhubarb: a little bit sweet, a little bit sour, embraced from vanilla. Hmmh…!
Cream puffs with Vanilla rhubarb
yield 4 cream puffs
Pâte à Choux:
70g milk
70g water
65g butter
3g sugar
2g salt
80g flour type 405
115g lightly beaten egg(about 2)
Vanilla Rhubarb:
300g Rhurbarb
40g sugar
1/2 vanilla pot
Cream:
200g whipping cream
20g sugar
Dusting:
Preheat the oven to 150°C.
Cut the rhubarb into fine slices and place it together with sugar and vanilla pod in a ovenproof bowl.
Pâte à Choux: Head in saucepan milk, water, butter, sugar  and salt until the mixture boils. Remove from heat and add the flour all at once and mix until all the flour is incorporated. Place the saucepan on the stove again and whip at low heat for another 1-2 minutes, until the dough pull apart from the bottom.
Let the dough cool down a little bit, then mix in 3/4 of the egg.  When homogenous add the rest of the egg an continue whipping until a smooth dough is formed.
Make 4 small mounts of Pâte à choux with a tablespoon on a parchment paper lined baking sheets .
Put the tray with the Pâte à choux  and the bowl with rhurbarb in oven.
Bake at 150°C with convection for 40 min until golden.
For the filling whip the cream until soft peaks.  Half the puffs and fill them with vanilla rhubarb and cream. Dust with powdered sugar.