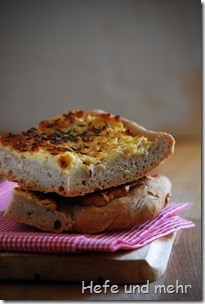 I like to watch the regional TV shows from other parts of germany because I always learn something new about this region. This time I learned about a pie called "Salzekuchen" in a TV show about the hessian kitchen. After a little search in the internet, I know now that Salzekuchen is also called Ploatz, Plootz or Bloads and is typical for Hesse, Parts of Franconia and the region of Rhön and Hohelohn. It is made of a Bread dough  which is topped with a potato or onion mixture. A typical dish in former days, when the village meets for baking bread. For lunch a part of the dough was set aside and used for Salzekuchen.
I decided to make the potato salzekuchen, but I change the recipe a little bit. The original recipe called for about 200ml canola oil. I think this amount is a little bit to much for nowadays where people normally spend most of their days in offices instead working heavily on a farm.
This lighter variant of Salzekuchen is very delicious and we will eat this again, for sure!