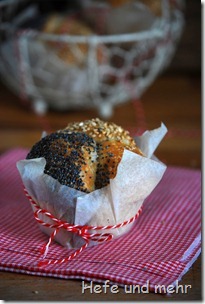 I neglected the Blog a little bit in the last months. But I passed the defence of my Ph.d. thesis successfully last Monday so I have time for blogging once again.
We (some other freshly made "Dr."s and me) had a party to celebrate this event. I volunteered to take care of the bread and tested two new overnight recipes for the party: cloverleaf rolls and burger buns. The Burger buns are made with very little yeast and proofed overnight at room temperature while the cloverleaf rolls proofed in the fridge. I only had to bake the rolls the next morning.
The cloverleaf rolls are a little eye catcher for  a buffet. One of the "leaves" of the cloverleaf is dipped in sesame, one of the them is dipped in poppy seeds and one stayed plain. It is my miniature variation of the German "Brötchensonne".
They taste very good, too, with a complex flavour due to poolish and the long and cold proofing.
Cloverleaf rolls
yields 24 rolls
Poolish
250g flour Type 550
250g Water
1g fresh yeast
Dough
Poolish
800g flour Type 550
425g Water
75g Butter
4g fresh yeast
20g Salt
Topping
In the morning: Mix all ingredients for the Poolish and ferment for 12 hours on a warm place (about 25°C).
In the evening: Dissolve the yeast in the water, add flour, salt and Poolish and knead 5 min at slowest speed, then around 11 min on fast speed until complete gluten development. Now add the butter and knead for about 2 min until complete incooperated.
Divide the dough into 24 pieces of about 75g each. Then divide each dough piece into 3 smaller pieces of equal size (ca. 25g each), form them into little balls. Dip one in sesame seeds and one in poppy seeds and lay them a piece of baking paper (12cm x 12cm), forming a cloverleaf. Transfer it with the baking paper into a muffin pan.
Proof overnight in the fridge.
The next morning preheat the oven to 250°C  and bake the rolls for 20 min with steam.
I sent this entry to Yeastspotting, Susans weekly showcase of yeast baked good.