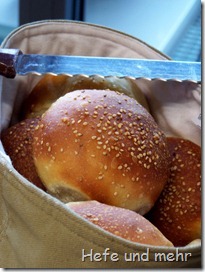 The second kind of bread I bake for our BBQ-Party was Burger Buns for the grilled Burger we planed to make.
To tweak my recipe I baked them now a couple of times and are very pleased with the recipe. An important point to archive a fluffy, regular crumb is to knead the dough long enough to ensure that the gluten network is fully developed. The crumb will be very soft and pillowy then. The crust is soft, too, like a perfect burger bun, but the bun has much more substance then the buns you can buy in the supermarket.
The slow and long overnight proofing create a complex aroma and prevent the crust of the buns from cracking open uncontrolled. They gain colour fastly due to the egg and sugar in the dough, so it's better to keep an eye on them while they are baking.
Burger Buns- Overnight-Variation
yields 14 rolls
Water Roux
150g Water
30g flour Type 550
Dough
Water Roux
630g flour Type 550
80g Oil
12g Salt
2g fresh yeast
120g Egg (2 Eggs Size L)
30g sugar
125g Water
For the water roux whisk water and flour until lump free, then heat it up to 65°C (needs about 3 min) while whisking. Fill the water roux in a bowl, cover its surface with cling foil and let it cool down to room temperature.
Knead all ingredients for 5 min at slowest speed, then around 11 min on fast speed until complete gluten development.
Ferment for 2 hours.
Divide into 80g pieces and form to balls. Place the buns on a paper lined baking tray.
Cover and proof overnight (about 10 hours).
Preheat the oven to 220°C at the next morning and bake the rolls for about 14 min with steam (or 190°C convection).
I sent this entry to Yeastspotting, Susans weekly showcase of yeast baked good.