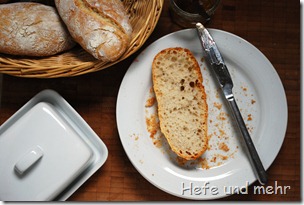 And now I am posting the next overnight recipe. Dear readers, I am afraid that you have to get used to overnight recipes. As long as I'm writing as a maniac such a relaxing method for fresh breads or rolls is a good counter balance.
At the moment I try to find the perfect recipe for rolls which rise overnight on the counter. This time I baked "Krustis", which I formed in the evening. In the morning I just had to place the tray in the oven, wait for 20 min and then I had some crispy rolls for breakfast. The rolls had a good ovenspring and a nice open crumb with a deep complex flavour. I really like them!
Krusti
yields about 9 rolls
125g flour Type 550
125g Water
1g fresh yeast
Water Roux
150g Water
30g  flour Type 550
Teig
Poolish
Water Roux
345g flour Type 550
100g Water
60g Butter
10g Salt
In the morning: Mix all ingredients for the Poolish and ferment for 12 hours on a warm place (about 25°C).
For the water roux whisk water and flour until lump free, then heat it up to 65°C (needs about 3 min) while whisking. Fill the water roux in a bowl, cover its surface with cling foil and let it cool down to room temperature.
In the evening:Mix water, flour, water roux, salt and Poolish and knead 5 min at slowest speed, then around 11 min on fast speed until complete gluten development. Now butter and knead for about 2 min until complete incooperated.
Ferment for 1 hour.
Divide the dough into pieces of about 100g each. Roll each piece into a 30 cm band, then cut the band into two half of 15 cm length each. Place one half over another and roll them into a log.
Proof the roll seam side up overnight (about 8 hours).
The next morning: Bake at 250°C for 20 minn with steam. Open the oven door to release the steam, glaze again and bake another 10 min to get a crispy crust.
I send this entry to yeastspotting, Susans weekly showcase of yeast baked goods