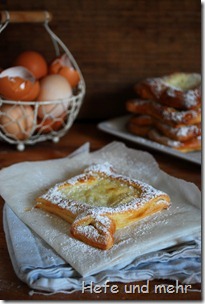 In the next days I will post some recipes which are waiting to get on my blog since I started writing. This is the first one:
Sometimes inspiration will be followed by inspiration. That happened to me when Clair posted a comment to my almond honey crescents in which she wrote that the recipe inspired her to crescents with a cheesecake filling. This comment make me then think of this cheesecake squares.
The cheesecake squares are sweet pastry on basis of a rich yeast dough, made with a poolish for a complex flavour and water roux for a soft crumb.
The filling I used is similar to the filling of my favourite cheesecake recipe.
The cheesecake squares are a beautiful snack with a cup of coffee on a Sunday afternoons.
Cheescake Squares
yields 18 squares
200g flour Type 550
200g Water
2g fresh yeast
30g flour Type 550
150g Water
Dough
Poolish
Water Roux
450g flour Type 550
120g Egg (2 Eggs Size L)
10g Salt
10g fresh yeast
65g sugar
200g Butter
Cheescake Filling
1 Egg (Size L)
180g Curd (Quark)
35g sugar
12g Starch
1/2 Vanilla bean
65g cream
Glazing
Mix water, flour and yeast for the poolish and ferment it overnight (12 to 16 hours) at room temperature.
For the water roux whisk water and flour until lump free, then heat it up to 65°C (needs about 3 min) while whisking. Fill the water roux in a bowl, cover its surface with cling foil and let it cool down to room temperature.
Mix flour, eggs , water roux, poolish, salt and yeast and knead 5 min at slowest speed, then around 11 min on fast speed until complete gluten development. Now add sugar and butter and knead for about 2 min until butter and sugar are complete incooperated.
Ferment for 1 hour.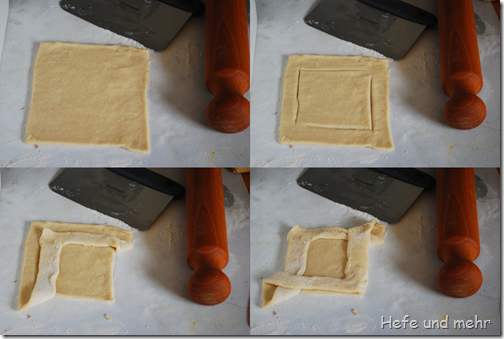 Flatten the dough into a rectangle with a tickness of 0.5 cm. Cut it into squares of 12cm side length. Make two cuts parallel to the sides on two opposite corners of the square (see picture). Fold the right side to the left side, so that the corner lays on the corner of the inner square. Repeat with the left side (see picture).
Mix the ingredients of the cheesecake filling  until homogenous.
Place a tablespoon of the filling in each square.
Proof for 1 hour.
Bake at 175°C for 15 min with steam.
Let cool down and dust sides with powdered sugar before serving.
I sent this entry to Yeastspotting, Susans weekly showcase of yeast baked good.