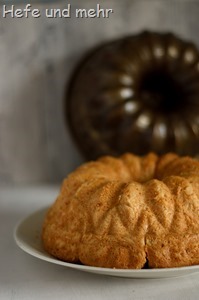 Goldknödel, the Transylvanian variant of monkey bread, is a all-time family favourite in the extended family. But as we have a genetic deposition for fructose intolerance some family members have to have a close look on their fructose intake. And as my favourite cousin asked for a low fructose Goldknödel for her birthday a work-over was necessary.
The main point was exchanging sugar (saccharose) with glucose. And as I made the experience before that to much glucose will dry the dough, I added a water roux to keep the dough fluffy soft and moist. As my cousin can eat some nuts, I halved the normal amount. Adding some tonka bean helps to replace the missing nut flavour.
And with this few changes on the recipe it results in a cake that tastes nearly indistinguishable with the "normal" variant. If you can not tolerate nuts at all, I would replace it with a teaspoon of cinnamon. That gives the cake a different flavour, but tastes good too.