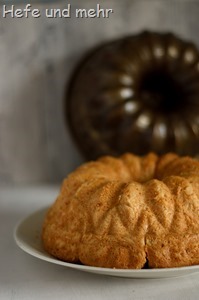 Goldknödel, the Transylvanian variant of monkey bread, is a all-time family favourite in the extended family. But as we have a genetic deposition for fructose intolerance some family members have to have a close look on their fructose intake. And as my favourite cousin asked for a low fructose Goldknödel for her birthday a work-over was necessary.
The main point was exchanging sugar (saccharose) with glucose. And as I made the experience before that to much glucose will dry the dough, I added a water roux to keep the dough fluffy soft and moist. As my cousin can eat some nuts, I halved the normal amount. Adding some tonka bean helps to replace the missing nut flavour.
And with this few changes on the recipe it results in a cake that tastes nearly indistinguishable with the "normal" variant. If you can not tolerate nuts at all, I would replace it with a teaspoon of cinnamon. That gives the cake a different flavour, but tastes good too.
Goldknödel
Biga
80g flour Type 550
40g Water
0.5g fresh yeast
Water roux
150g cream
30g flour Type 550
Dough
Biga
Water roux
420g flour Type 550
185g Water
35g glucose 1
45g Eggyolk (3 egg size M)
10g fresh yeast
4g Salt
Tonka bean
65g glucose 2
75g Butter
For Coating
50g grounded almonds, hazelnuts or Walnuts (optional)
100g sugar
75g Butter, molten
Mix the ingredients for the biga and let it ferment in the fridge for at least 16 hours.
For the water roux mix cream and flour until lump free, then heat until it starts bubbling while whisking. Fill the water roux in a bowl, cover its surface with cling foil and let it cool down to room temperature.
Knead all ingredients except glucose 2 and butter for 10 min at slow speed. Now add the glucose 2 in small increments and knead until the sugar is incooperated before adding the next sugar. At last add the butter all at once. Knead to full gluten development.
Let rise overnight in the fridge or  for one hour temperature plus 1-2 hours in the fridge.
Mix grounded nuts with sugar and grease the kugelhopf pan. Then divide the dough into pieces of 40g and form them to small balls. Turn them first in the molten butter, then in the nut and sugar mixture. Lay them in the kugelhopf pan.
Proof for 1.5 hours.
Bake at 175°C for one hour with steam.