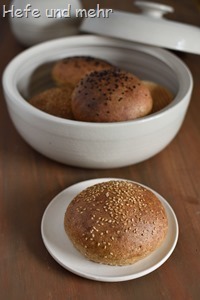 There is no shortage for burger bun recipes here in the blog. But while I am not willing to discuss a change by the patty (it HAS to be my vegan ABC-Burgerpatty) we like a change by the bun. And when we decided spontaneously that we would like to eat Burger for Dinner, I opted to bake spelt buns this time. When I checked the blog, I realized that I published no spelt variant until now. Something I had to change instantly, of course.
As the recipe is one for baking without long planning, there is no prefermet involved. To deepen the flavour non the less, I added some sourdough from the fridge and used it refresh my sourdough all along. For keeping the moisture in the dough, I opted for physillium hulls (no need to wait for a water roux cooling). And I added a good portion of freshly milled spelt, enough for some nutty flavour but not so much that it would compromise the fluffiness of the bun. It worked well together and after four hours we were able to serve some delicious burger along with sweet potatoe fries.
Spelt Burger Bun
yields 9 Buns
Dough
200g whole spelt flour
300g flour Type 630
50g sourdough (from the fridge)
300g Water
50g Egg (1 Egg Size M)
10g Salt
10g fresh yeast
5g physillium hills
5g enzyme active Malt
85g Butter
Topping
Knead all ingredients except butter for 5 min at slow speed. Then knead 7 min at fast speed. Now add  the butter all at once and knead to full gluten development.
Let rise for one 1.5 hours.
Divide into 100g pieces and form to buns and press them down. Place on a baking tray, wet their surface and sprinkle with sesame.
Proof for 1.5 hour.
In the meantime heat the oven to 230°C.
Bake at 250°C for 16-18 min with steam.