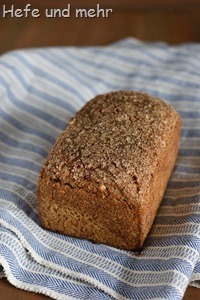 Some time ago my mum handed two recipes to me. A very dear neighbour of my parents asked if I could give the recipes a work-over. And as its due to my mum and me that she got the bread baking virus, I could not deny. But the first look on the recipe made me sigh. It was a variant of the infamous "three minute bread". There are many variants of this bread available, but all suffers at a stable crumb and a all overpowering yeast flavour.
The yeast flavour is due to an overdosed amount of yeast. This can be easily fixed by reducing the yeast amount. Fixing the crumb needs a bit more work and time. Most important is to knead the bread thoroughly. Beside of kneading giving the flour enough time to soak is important, too. And so I added a Soaker and a Sourdough and added proper time for fermentation.
The bread is not a three minute bread anymore. It needs time like every good bread, but this time is well invested. The bread has well balanced flavour and moist, but stable crumb. A delicious bread for my lunch at school!
Three Grain Bread
yields three breads of 600g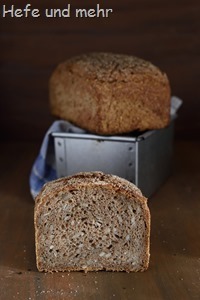 Soaker
120g sun flower seeds
100g whole spelt flour
300g boiling Water
12g Salz
Sourdough
150g whole rye flour
150g Water
15g sourdough
Dough
sourdough
soaker
200g whole spelt flour
150g whole wheat flour
8g yeast
120 g Wasser
For the sourdough, mix all ingredients and ferment for 14-16 hours at Roomtemperature.
For the soaker, mix all ingredients and let it soak to hours at room temperature, then place it in the fridge.
The next morning knead all ingredients at slow speed for about 5 min, then at fast speed for about 8-10 min until full gluten development.
Ferment for about 90 min.
Form the bread into two long loaves. Grease three bread pan (16 cm for 500g loaves) and sprinkle with oat bran. Place the loaves in the pan and sprinkle with oat bran.
Proof for 90mom
Bake at 250°C with steam, turn the temperature to 200°C after 5 min and bake another 45 min by falling temperature.