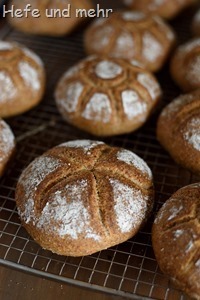 The second recipe I got from my parents neighbour which needed a bit of work over was a recipe for whole grain rolls with milk and a good portion of butter. I liked the idea of this rolls instantly.
I added poolish for more flavour and a water roux to make the dough more easy to handle. The other adjustment I made was concerning kneading and fermenting time. Kneading the dough until full gluten development is an important point here as a well developed dough keeps water much better. And as I told already last week, it is important that a whole grain dough gets enough time to soak up the liquid, too. This helps to improve the crumb as well as the shelf life. And in combination these all leads to a dough which is firm enough to get stemped with a roll stemp.
Beside of this I finetuned the recipe a bit, reducing the amount of yeast (once more) and adding an egg as lecithin source. This helps to create a fluffy roll with good volume and fine flavour. The buttery notes pair up very well with the nutty yet slightly bitter flavour of whole grain. These are rolls with potential for favourite rolls.
Buttery Whole Wheat Rolls
yields 11 rolls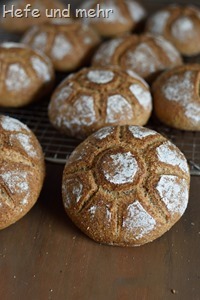 Poolish
150g whole wheat flour
150g Milk
1g fresh yeast
Water roux
30g whole wheat flour
150g Milk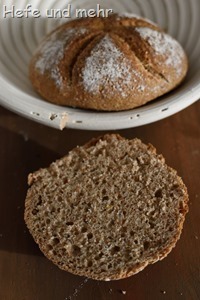 Dough
Poolish
Water roux
350g whole wheat flour
80g Milk
9g fresh yeast
50g Egg
10g Salt
60g Butter
Mix the ingredients for the poolish and let it rise for 10-12 hours.
For the water roux mix cream and flour until lump free, then heat until it starts bubbling while whisking. Fill the water roux in a bowl, cover its surface with cling foil and let it cool down to room temperature.
Knead all ingredients for the dough for 5 min at slow speed and 10 min at fast speed. The dough should be now soft, but not sticky.
Let the dough rise for 1.5 hozrs.
Divide the dough into 90g portions and form them into round rolls, then dip their surface in rye flour. Use a apple slicer and press him  to 3/4 deep into the dough.
Turn the rolls on the cut and let them proof for 30 min on a bakers couche.
Preheat the oven to 250°C.
Turn the rolls, so that the cut side face upside once again, and place them on a paper lined baking tray. Mist with water and bake with steam for about 20 min at 250°C. For really crisp rolls turn to convection mode during the last 5 min.