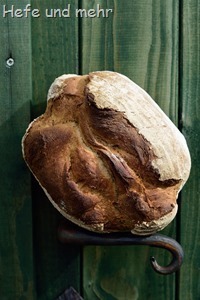 All the winter I did not make it to one of the bread baking days in our local history museum. It was due to different reasons: a lot of snow, a bad cold, our spontaneous weekend trip into the Ardennes…
But last weekend I finally was back and it was so good to meet all the nice people there once again. And as every time I was enchanted by all the little details around the wood fired oven and took many photos.
To honour the museum I call the bread I baked this time "Bergneustädter" as the Museum is seated at the historical centrum of the little town Bergneustadt.  It is a bread made with white wheat and rye flour. To keep the bread moist for a long time I added a bit of potato flakes and a little bit of butter, too. The roasted malt enhances the subtle smoke notes of the wood fired oven. For rising the bread adding my hyperactive sourdough would be enough. But as a wood fired oven waits for no one I kept on the secure side and added a bit of  yeast to make the proofing better controllable. So the bread needed 60 min to be ready for baking, which is fits perfect in the time schedule I have in the museum.