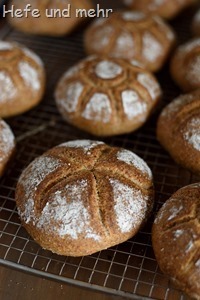 The second recipe I got from my parents neighbour which needed a bit of work over was a recipe for whole grain rolls with milk and a good portion of butter. I liked the idea of this rolls instantly.
I added poolish for more flavour and a water roux to make the dough more easy to handle. The other adjustment I made was concerning kneading and fermenting time. Kneading the dough until full gluten development is an important point here as a well developed dough keeps water much better. And as I told already last week, it is important that a whole grain dough gets enough time to soak up the liquid, too. This helps to improve the crumb as well as the shelf life. And in combination these all leads to a dough which is firm enough to get stemped with a roll stemp.
Beside of this I finetuned the recipe a bit, reducing the amount of yeast (once more) and adding an egg as lecithin source. This helps to create a fluffy roll with good volume and fine flavour. The buttery notes pair up very well with the nutty yet slightly bitter flavour of whole grain. These are rolls with potential for favourite rolls.