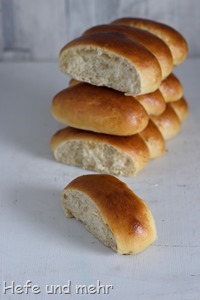 The Einback (sometimes called Zeilenweck or Micken, too) is a slightly sweet milk roll with fluffy crumb and soft crust. They got their special form form placing the rolls so near to each other they touch during baking.
I had them on my list of regional breads already for some time. I was fascinated by the fact, that they are only a interstage product of the Zwieback production. But the fluffy rolls gained more and more popularity on their own and at some point "Einback" became a synonym for "fluffy milk roll".
When I bake the rolls, I decided to try them as Einback as well as Zwieback and I like both very much. The Einback is soft and fluffy and flavourful due to preferment and water roux, the zwieback is crunchy and sligthly sweet. I can't decided which variant I like most…
Einback
yields 14 rolls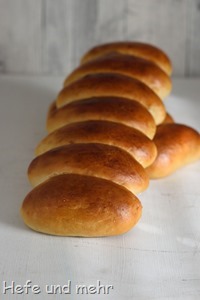 Pâte fermentee
150g flour Type 550
105g Water
1g yeast
3g Salt
Water roux
150g Milk
30g flour Type 550
Dough
Pâte fermentee
water roux
320g flour Type 550
7g Salt
9g yeast
50g Egg (1 Egg Size L)
40g Milk
5g active malt
50g Butter
60g sugar
Dekoration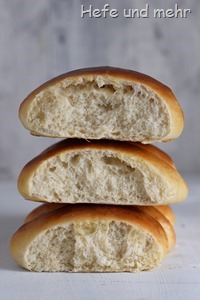 Mix the ingredients for the Pâte fermentée and let it rise for at least 16 hours in the fridge.
For the milk roux mix milk and flour until lump free, then heat it up to 65°C (needs about 3 min) while whisking. Fill the water roux in a bowl, cover its surface with cling foil and let it cool down to room temperature.
Mix flour, sweet starter, milk, egg, yeast, salt and spices and knead for 5 min at slow speed. Then knead 7 min at fast speed. Now add the sugar in small increments and knead until the sugar is incooperated before adding the next sugar. At last add the butter all at once. Knead to full gluten development.
Let rise for one hour temperature plus 1-2 hours in the fridge.
Divide into portions of 70g. Form a long roll and place it on a baking tray.
Proof for 90 min.
Brush with egg and at 220°C for about 18 min with steam.
Tipp: For Zwieback, cut the rolls after cooling in 1 cm thick slices and dry them at 120°C for 45 min until they are slightly brown and crisp.