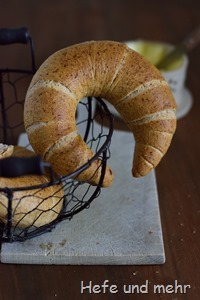 These Crescents are a spontaneous recipe. I planed to bake some kind of rolls and so I prepared more sourdough than I needed for the Sprouted Spelt Bread the night before. But what to bake – I had no clue then.
Most of the time, I sit down and write down the draft of a recipe before I head to the kitchen. This makes not only baking more easy but helps me to finetune the recipe for publishing, too. The decisions for this rolls, anyway, where made in the kitchen by following my instincts. While proofing, I type down the recipe as fast as I could to prevent me forgetting some detail. And I'm glad I did so as I love the new rolls very much.
A little bit special is the addition of enzyme active bean flour. Normally this flour is used for Baguette baking. It has emulsifying properties and its enzymes start a oxidising process which strengthens the gluten network in the end. If you have no Bean flour, grinding some beans can work, too.
And, as I told before, these spelt crescents are new favourites of me. Aromatic, crisp, and fluffy – just as a roll should be!
Crisp Spelt Crescents
yields 8 crescents
Sourdough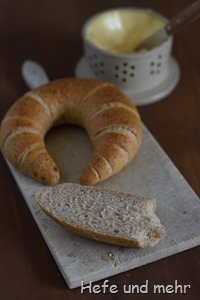 150g Whole Grain Spelt
150g Water
15g Sourdough
Dough
Sourdough
350g Spelt flour Type 630
175g Water
10g Salt
10g fresh yeast
5g Enzyme active bean flour (optional)
5g Physillium hulls
20g Butter
For the sourdough, mix all ingredients and ferment for 14-16 hours at 25°C.
Knead all ingredients for 12 min at slow speed, then another 3 at high speed until full gluten development. The dough should be soft and a bit sticky.
Ferment for 1.5 hours.
Divide into pieces of 110g , preform to balls and let them rest for 15 min. Flat the balls to ovals with a length of 20cm and a width of 12 cm. Roll from the short side to a log. Form to a crescent and place on a paper lined baking tray.
Proof for 50 min.
Preheat the oven to 250°C.
Bake for 10 min with steam, then release the steam and bake for another 10-15 min at 250°C. To enhance the crispiness turn to convection mode for the last 5 min.