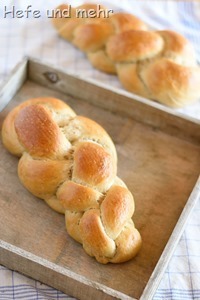 It was such a stormy Sunday! The sun was glimpsing through the clouds now and then, but the whole time trees were bending under the power of wind. It was the right weekend to stay home and bake bread.
And so I bake a delicious braid. But as we have a tiny bit of stormy days in our life, too, with a lot of appointments eating up time, there was no time for a preferment. And as I wasn't baking in my own kitchen, I had no kitchen machine to take up kneading either. These were the facts I had to build my recipe around.
At the end, I opted for buttermilk and a long, cold proof to enhance flavour. And I decided to bake the Braid in Swiss Style, which means: no sugar in the dough. Without sugar, it is much easier to knead the dough to middle gluten development as sugar tends to inhibit gluten development.
My plan worked as well as I could hope for, and the next day I started my morning with some freshly baked bread. Is there a better start in a chaotic week?
Buttermilch Braid
yields 3 braids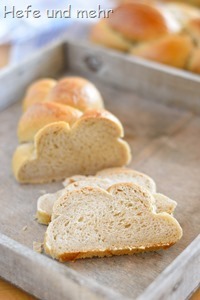 Milk Roux
200g cream
40g flour Type 550
Dough
860g flour Type 550
500g Buttermilch (35°C)
100g rye flour Type 1150
milk roux
10g yeast
20g Salt
90g Butter
Decoration
For the milk roux mix milk and flour until lump free, then heat it up to 65°C (needs about 3 min) while whisking. Fill the water roux in a bowl, cover its surface with cling foil and let it cool down to room temperature.
In the meantime mix flour and Buttermilk and let it rest for at least 30 min. Now add rye flour, milk roux, yeast and salt and knead by hand for 8 min. Now add the butter in small pieces and knead another 4-5 min.
Let the dough rise 90 min at room temperature
Divide the dough and roll it into 6 strands (each about 30 cm). Take always two and braid them like this.
Place on a baking tray and cover well.
Proof overnight in the fridge (alternatively 90 min at room temperature).
The next morning preheat the oven to 180°C. Brush the braids with egg and bake at 180°C for about 40 min with steam.