I planned another recipe for this week. But the last roll vanished, before I could take a picture. But luckily I baked a beautiful Kamut Sandwich Bread this week, too!
I find it always fascinating how bright the crumb of whole grain Kamut breads is. And its flavour is always delicious, sweet and nutty. As all ancient grains are a bit trying when it comes to whole grain sandwich breads, I used all tricks I learned in my struggles during the last two years: Vitamin C in form of acerola cherry juice, a bit pf physilium hulls, enzyme active bean flour and eggs help to enhance gluten network and to stabilize the crust. Another key for a stable crumb is the "ten piece methode". For each bread the dough is formed into ten buns and then place in the baking tin. That helps to create a more even and tender crumb which does not collapse during cutting. It takes a bit more time for forming, but the effort is very well invested!
Whole Grain Kamut Sandwich Bread
yields 3 breads of 550g
Poolish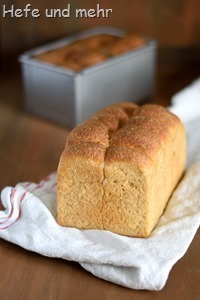 300g Kamut whole grain flour
300g Water
1g fresh yeast
Teig
Poolish
700g Kamut whole grain flour
320g Water
100g egg (2 Eggs size M)
20g Salt
20g fresh yeast
8g Enzyme active bean flour (optional)
5g Physillium hulls
8g enzyme active Malt
6g acerola cherry juice
85g Butter
Mix the ingredients for the poolish and ferment for 12-14 hourrs.
For the dough, knead all ingredients except butter for 6 min at slow speed. Now add the butter all at once and knead to full gluten development (3-5 min)
Let rise for one 2 hours.
Divide into 100g pieces and form to buns and press them down. Place on a baking tray, wet their surface and sprinkle with sesame.
Proof for 1.5 hour.
In the meantime heat the oven to 230°C.
Place the breads in the oven and reduce the temperature to 200°C. Bake for 50 min with steam.