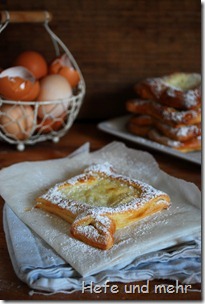 In the next days I will post some recipes which are waiting to get on my blog since I started writing. This is the first one:
Sometimes inspiration will be followed by inspiration. That happened to me when Clair posted a comment to my almond honey crescents in which she wrote that the recipe inspired her to crescents with a cheesecake filling. This comment make me then think of this cheesecake squares.
The cheesecake squares are sweet pastry on basis of a rich yeast dough, made with a poolish for a complex flavour and water roux for a soft crumb.
The filling I used is similar to the filling of my favourite cheesecake recipe.
The cheesecake squares are a beautiful snack with a cup of coffee on a Sunday afternoons.