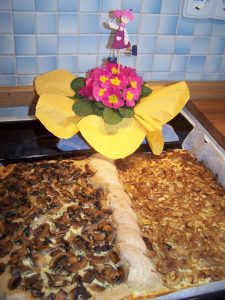 Last weekend we were invited to the birthday party of a friend of mine. The evening before she called a little bit worried, because she realised that the party food was not vegetarian, except off salate and bread. I offered instantly to bring a quiche, pleased that I had a reason to bake.
But then I could not decide: onions or mushrooms? And I planed to bake bread also , for that I prepared already a preferment. So what to do?
But then I had an idea. Why not make one dough, then splitt it and make bread with two-thirds and the quiche with the other third?
Mixed Seedbread and Onion/Mushroomquiche
yield 2 bread (each about 900g )and a baking tray quiche
Preferment:
500g flour (Typ 550)
350g water
2g yeast
Dough:
500g flour (Typ 550)
500g wheat, freshly grounded to flour
30g salt
15g yeast
700g water
for the bread
Onion filling:
750 g onion
1 egg
100g heavy whipping cream
salt
pepper
Mushroom filling
800g mushroom
1 egg
100g heavy whipping cream
salt
pepper
cress
Mix all incredienice for the preferment and let ferment it over night at roomtemperature.
The next day put the preferment, the diffrent flours, salt, water and yeast in the bowl of the kitchen machine, mix shortly  and rest it for 30 min (autolysis). Now knead for 10 min untill the gluten develops.
Take one third (for the quiche) to another bowl and mix the seeds to the other two-thirds. Proof both dough for one hour. Preheat the baking stone to 250°C.
Quiche:
Cut the Onions and the mushrooms into slices and roast in two diffrent pans untill golden. Let cool down, then mix with egg and cream and season with salt and pepper.
Roll out the dough to the size of the baking tray and lay it on the baking tray. Let ferment for half an hour, then cover half of the dough with the onion filling, the other half with the mushroom filling. Put the tray on the hot stone and bake for 30 min.
Bread:
Put the dough to your working sureface and divide it into two pices of the same size. Shape it to oval breads and rest it for 60 minutes. Slash the bread after 45 min. Preheat the oven and the baking stone to 250°C during this time.
Put it in the oven on the hot stone and bake with steam for around 35 min.
[tab:END] This is my post for Susans weekly YeastSpotting.