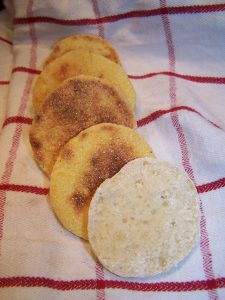 I ran into them twice last week: here and here. And could not get them out of my head. In germany I never found something like this, just something called Toastis from the brand Golden Toast. But I bought it just once and never again. I do not like bread that taste mostly like the plastic bag it is sold in. But the pictures in the blogs look so delcious, so I thought that it would be a good idea to give them a second try.  And the muffins turned out well, a little bit sour, a little bit sweet. The recipe is a cross between the sourdough-muffins from Wild Yeast and the recipe from Le Pètrin.
English Muffins
100g ripe sourdough (100% Hydration)
350g flour (Type 550)
180g milk
6g salt
3 g yeast
10g honey
Knead all ingredients until the dough is smooth, around 10 min. I kneaded by hand, because the amount was to small for my kitchen machine. Rest the dough for 30 min. Roll the dough untill it is 1,5 cm thick. Now cut circle,with the diameter of 8 cm. Rest for one hour.
Heat a pan to middle heat. Bake the muffins in the pan for 6 min each side, turn them in between for a few times. Bake untill the muffins are golden brown.
[tab:END]
This is my post for Susans weekly Yeastspotting, where you can find a lot of stunning breads.