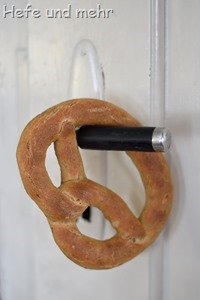 When I was researching another recipe, I stumbled upon the recipe for anise pretzels . These pretzles are made without lye and are typically served during winter in the region Upper Franconia. They contain a lot of anise, as their name promise.
Interestingly it seems that the recipe vary from town to town: In Weidenberg the dough is made  without the addition of fat, while in a recipe from Bayreuth the dough is enriched with some milk and butter. I liked the richer variant more and so my dough contains both milk and butter, too. A egg yolk is added as emulsifier and helps to create fluffy and soft crumb.
Anisbrezen
yields 10 pretzel
Rye -Poolish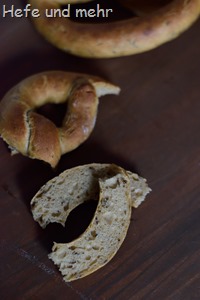 80g rye flour Type 1150
160g Water
0,3g fresh yeast
Dough
420 g Flour Type 550
100g Water
40g Milk
20g egg yolk (of one egg size L)
30g Butter
20g inactive Malt
12g Salt
10g Yeast
20g Anise
Mix water, flour and yeast for the poolish and ferment it overnight (12 to 16 hours).
The next morning: Mix all ingredients for the dough and knead it for about 5 min at low speed, then 10 min on high speed.
Ferment the dough for one hour.
Divide the dough into pieces of 80g and form them to light balls. Rest them for 20 min.
Now roll the dough to a strand of 70 cm. The strand should be a bit thicker in the middle then at the ends. Form to a pretzel and place on a baking tray lined with baking parchment.
Proof one hour on room temperatur.
Bake it at 250°C for 15 min.