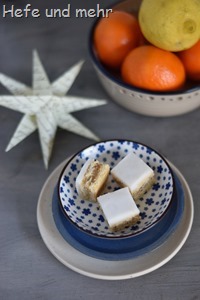 I tried this little Cookies some years ago when a colleague brought a bag of his moms christmas cookies when he came back from the Alsace. The bag was filled with beautiful and delicious cookies, like Linzer Ringe. And there was this rather plain, simple square cookies. But with the first bite I was in love. So plain they look so brilliant was their taste: a mixture of lemon and orange with a hint of almond was a great counterpoint to all the (delicious) vanilla and cinnamon Christmas flavours. And so I begged and begged and begged until the dear colleague brought a recipe when he came back from a family visit. I tested it and realized while making that it was for the second lemon cookie in the bag: Délices au citron – a good cookie, too but not the cookie I fell in love with…
And so I searched long and for some years. And finally I found a recipe that sounded similar: Orangenschnittli. I changed the recipe more and more, until it fits to the flavour I remembered. They need some days for ripening, as the flavour has to diffuse and melange for the perfect taste. But then this little cookies are a clear new favourite of my cookie plate: easy to make and so delicious!
Lemon Cookies
Dough
200g Butter
1 Egg
350g flour Type 405
120g sugar
grated peel of 1 lemon
Filling
100g sugar
grated peel of 1 lemon
grated peel of 1/2 oranges
50g lemon juice
50g orange juice
200g grounded almonds
Glazing
150g powdered sugar
30g lemon juice
Knead the ingredients for the dough shortly until combined and cool in the fridge for hour.
In the meantime mix the ingredients of the filling.
Roll  the dough into two squares of  25x35cm. Place one square on a baking sheet, spread the filling on top and cover with the second dough square.
Bake at 180°C for 20-25  min.
Let cool, then mix the ingredients for the glazing. Spread with glazing and let the glazing dry before you cut the dough into little cubes with 2.5×2.5 cm length.