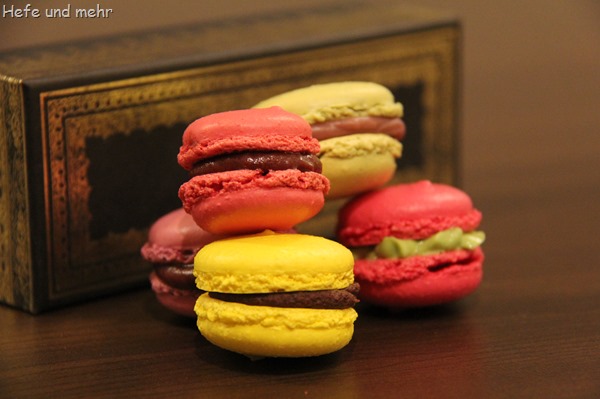 The afternoon was misty and grey when I met with the six participants of my macaron course at raum44. On of them was my dear Blogger colleague Ulla and you can read her review here.  We where busy in this five hours: We sieved and stirred, whipped egg white and cooked sugar syrup and prepared many different fillings, too. With passionfruit, matcha, cassis and dark raspberry the fillings where  not only a colourful but an aromatic contrast to the bright macaron shells.
Only the lemon curd with herbs was not as perfect as she should be and stayed a bit to runny. This torture the soul of the perfectionist I am, but everything else turned out perfect (not a single cracked shell and all with beautiful feets!) and so everyone left happy. We backed about 300 macarons and everyone took home more then 40 macarons in the end. And so we all forgot the grey weather outside while we looked at the vibrant colours of our little baked jewels!
And if you want to bake Macarons, there will be another one at 18.March 2017!