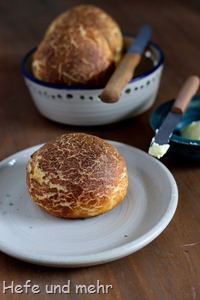 The next regional bread recipe is from Northern Germany, too. Or, to be more precise, from Osnabrück. It is a roll which roots in meagre days when good flour with a high amount of gluten was rare. The poor flour quality results in a finer, denser crumb and a smaller volume then normal rolls. To archive good looking rolls with a nice crust despite the flour quality the bakers used a trick. They spread the rolls with different kinds of mixtures which results on a crisp, and crackled crust. This special look of the crust gave the rolls their name "Springbrötchen" (lit. Cracked Rolls).
The flavour of the crumb is slightly sweet while the crust is very hearty. The hearty flavour stems from the last mixture which is applied on the rolls: It is a mixture of fat and baker's ammonia. The slight alkalinity of the baker's ammonia has a similar effect like lye for making pretzels and gives the rolls their specific flavour. The hint of sweetness is archived by a bit of sugar and the addition of some milk and is a lovely contrast to the  flavour of the crust. I like the flavour very much and there are already new recipe variants with preferments circling in my mind. Always a sign that I like a recipe…
Springbrötchen
yields 10 rolls
Dough
500g flour Type 405
180g  Water
90g Milk
20g egg yolk (from 1 egg size L)
20g oil
15g sugar
5g inactive Malt
10g fresh yeast
10g sourdough from the fridge (optional)
10g Salt
1. Spread
10g rye flour Type 1150
120g Water
2. Spread
30g rye flour Type 1150
40g Water
3. Spread
50g soild plant fat (coconut fat or margarine) or lard
2g baker´s ammonia
Knead all ingredients for 5 min at slow speed. Then knead 10 min at fast speed. The dough should be now soft, but not sticky.
Let the dough rise over night in the fridge.
The next morning prepare 1. and 2. Spread. For the first spread stir the flour into the water and bring it to boil while stirring. Fill in a bowl and let cool down. For the 2. Spread mix water and flour until lump free.
Divide the dough into 80g portions. Flatten the dough a little bit and start to fold the dough in the middle. Repeat until a ball has formed.  Place the rolls on a paper lined baking trays. Brush them with 1. spread. Proof for  45 min, then brush the rolls with 2. spread.
Proof for another 20 min.
Preheat the oven to 250°C.
For the 3. Spread melt the fat at low temperature (not higher then 50°C) and stir in the ammonia. Brush the rolls with the mixture and place them in the oven.
Bake for 20 min at 250°C until dark brown. For really crisp rolls turn to convection mode during the last 5 min.