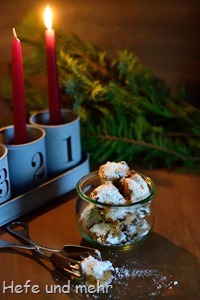 The more often I bake stollen bites,  the more I love them. They are the perfect as late afternoon treats with a cup of tea. They are a perfect little Christmas gift for friends and colleagues. And they are perfect for testing new stollen variants in small scale.
The idea of a whole grain stollen grew in the last year somewhere in my mind. And as it happens so often I felt a itching in my fingers to try the variant. But I was absolutely unsure if I would like the flavour of whole grain flour at all in such a festive bread. And so I did a recipe test with half of the recipe of the stollen bites. After two weeks of resting I finally tested them last weekend and I was thrilled. The slight bitter and nutty tones of the flour harmonises perfectly with the spices and the sweet dried fruits. The flavour is deeper and more complex then of the white flour variant. And they stay as moist as the original, too. And I'm now sad that I made just half of the recipe…
Whole Grain Stollen Bites
Soaker
150g Raisins
50g chopped almonds
30g Rum
boiling Water
Water roux
20 g flour Type 550
100g Milk
Preferment
50g flour Type 550
65g cold Milk (ca. 15°C)
12g fresh yeast
Dough
Water roux
Preferment
200g flour Type 550
2g Salt
a pinch of mace, cardamom, cinnamon
seeds of a half vanilla been
35g sugar
125g Butter, room temperatur
30g candid orange peel
30g candid lemon peel)
100g Marzipan (frozen)
Glazing
50g Butter
100g sugar
100g powdered sugar
The evening before: Mix almonds, raisins and rum in a bowl, then add boiling water until the fruit mixture is covered with water.
The next morning: Mix flour, milk and yeast for the preferment. Ferment until the size double. For the water roux whisk milk and flour until lump free, then heat it up to 65°C (needs about 3 min) while whisking. Fill the water roux in a bowl, cover its surface with cling foil and let it cool down to room temperature.
Cream butter and sugar, then add water roux, preferment, flour, salt and spices. Knead until  a homogenous dough forms, but be carful, the dough temperature should not become higher then 22°C.
Rest for 30 min. Drain raisins in the meantime, chop marzipan into cubes of 0.5cm x0,5cm, Chop the lemon and orange peels finely.
Knead the fruits and Marzipan in the dough. Knead just as long as you need to incorporate the fruits.
Flatten the dough to a thickness of 1.5. Cut into squares of 1.5x3cm.
Place on a paper lined baking tray and proof for 30 min.
Heat the oven to 180°C.
Bake for 20min.
Turn the still warm stollen bites in melted butter and then in sugar. Let it cool overnight, then cover thickly with powdered sugar. Store it at a cool place for at least one week (better two or more).